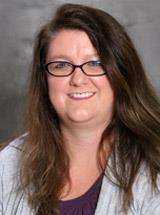 Kristie Walker
Assistant Professor
Agriculture & Natural Resources Department
Office: 205 Hill Hall
Phone: 218-281-8116
E-mail: kswalker@umn.edu
Education Background:
Doctor of Philosopy, Agronomy, Purdue University, August 2008
Master of Science, Agronomy, Purdue University, May 2006
Bachelor of Arts, University Alabama in Huntsville, December 1999
Publications:
Walker.K.S., C.A. Bigelow, D.R. Van Scoyoc and Z.J. Reicher 2007. Above ground responses of three cool-season lawn species to varying annual nitrogen rates and application timings. Crop Sci. 47:1225-1236
Bigelow, C.A., K.S. Walker, and G.A. Hardebeck. 2007. Single fall applications of coated urea fertilizers produce a high quality Kentucky bluegrass turf. Applied Turfgrass Science Online Journal.
Bigelow, C.A., and K.S. Walker. 2007. Golf ball roll distance: A field exercise to explore management factors affecting putting green speed. J. Nat. Res. Life Sci. Edu. 36:112-119.
Awards and Honors:
Associate Fellow of the Teaching Academy, Purdue University, 2007
Graduate School Excellence in Teaching Award, Purdue University, 2007
Honoree for the Celebration of Graduate Student Teaching, Department of Agronomy, Purdue University, 2006
Outstanding Student in Teaching Award, Department of Agronomy, Purdue University, 2006
Certificates:
Advanced Graduate Teaching Certificate, Purdue University Center for Instructional Excellence, 2006
Graduate Teaching Certificate, Purdue University Center for Instructional Excellence, 2005
Other Accomplishments:
United States Golf Association Summer Intern, North-Central Region, 2005
Affiliations:
Crop Science Society of America , since 2004
Soil Science Society of America , since 2004
Golf Course Superintendents Association of America , since 2003
Midwest Regional Turf Foundation, since 2002
United States Golf Association, since 2003
Phi Kappa Phi, since 2004
Gamma Sigma Delta, since 2005